About Champagne Brigitte Beaufort
Our Company
Created in 2008 by Brigitte Beaufort, Champagne Brigitte Beaufort seeks to make the most of the richness and diversity of the 14 plots of our estate.
Each year, Brigitte creates exclusive cuvées, between 5,000 and 6,000 bottles. The strong identity of its Pinots Noirs and the elegance of its Chardonnays contribute to the birth of 1 to 3 vintages.
Unique champagnes
Fresh and powerful vintages
Reflections of each of our plots
Would you like to know more or visit us? Contact us through our contact form.
Our Team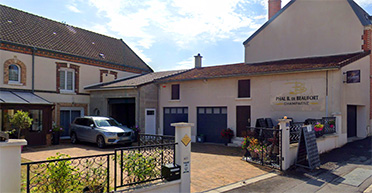 Brigitte is accompanied by her children, Anne-Louise and Pierre-Herbert, as well as a vineyard technician, Angélique Gruson. 
Champagne Brigitte Beaufort is a truly human adventure with a team driven by a common desire: sharing the richness of the Champagne region, with 4 hectares of vines located in the municipalities of Bouzy, Ambonnay and Tours-sur-Marne. All of them are classified Grand Cru.
Testimonials
"Such a
 great place to visit! Brigitte is a very welcoming host. She took the time to let us taste all her cuvées and told us the history of the company. Really exciting! Thanks Brigitte! I am looking forward to visiting you again! "
"
David Nitta
"
A real discovery both in terms of taste and aesthetics of the bottle. I certainly want to share it with my loved ones so that they can enjoy the fine bubbles of this champagne.
"
Nicolas Lambert